Fugro Goes Seep Hunting off Eastern Canada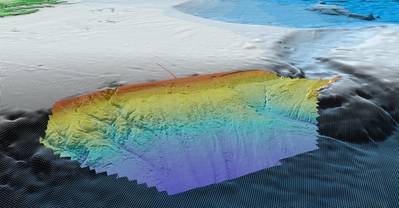 A geophysical acquisition portion of a 2018 Carson Basin seep hunting program offshore eastern Canada recently completed by Fugro covered an area of 18,875 square kilometers in water depths from 300 to 3,300 meters in this frontier region offshore Newfoundland. From its deepwater survey vessel, Fugro Searcher, Fugro acquired multibeam echosounder data (bathymetry, backscatter intensity and water column) and sub-bottom profiler data which were used to interpret geologic features and optimize target selection for geochemical sampling and heat flow measurements.
The second portion of the program – coring for geochemical sampling, shipboard geochemical screening analyses and heat flow measurements – commences in August, once targets are agreed upon by geoscientists at Fugro and Nalcor Energy, an investor in the program. Shore-based, advanced geochemical analyses, including isotopes and biomarkers on selected samples, will be coordinated by Amplified Geochemical Imaging, Inc., Fugro's partner on this project.
Highlighting the successful licensing of Fugro's nearby Orphan Basin dataset from the 2017 program, Steve Carter, Fugro's Multiclient Data Licensing Manager, also cited oil finds in the area and expressions of interest by several companies in this year's program as indicators that the oil and gas industry is rebounding: "International E&P companies are eager to be at the forefront of exciting frontier areas like offshore eastern Canada and Fugro's success in analyzing and interpreting hydrocarbon potential in such areas enables us to lower costs and risks and reduce exploration uncertainties."
The data package and final, integrated report to be available in early 2019 will help exploration and production companies to evaluate lease options for Newfoundland and Labrador's 2019 licensing round later that year.
These data will continue to be useful throughout the life of the field for any clients purchasing data licenses. A variety of further investigations – establishing environmental baselines and habitat mapping, evaluating seafloor geohazards, and preliminary planning for field development – ensures the data will deliver long-term value to these companies.
In offshore Newfoundland and Labrador, purchases of geoscience data programs in advance of a license round may be eligible to be applied to the work commitment bid in the event of a successful bid in the license round.