First Subsea Clamping Solution Developed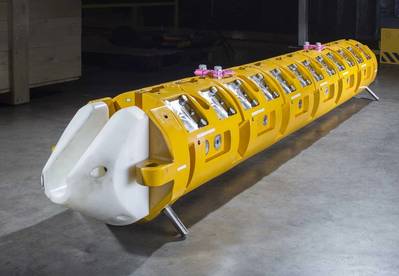 One of the North East's engineering consultancies has added to its portfolio of intelligent subsea solutions with the development of an industry first subsea clamp solution supplied to one of the offshore industry's largest subsea hardware providers.

Red Marine has developed the modular umbilical clamp system, made up of six purely mechanical elements, in conjunction with the global subsea provider, FMC Technologies (FTI). The clamp solution will be commissioned on board the deep water well intervention vessel, Island Performer, in the Gulf of Mexico and used as a key system element in Well Intervention Operations.

The vessel was purpose built for deep water well interventions and features the latest innovations from FMC Technologies including a Riserless light well intervention (RLWI) stack which enables it to complete intervention operations in water depths of up to 6,500ft.

The engineering challenge was to develop a clamp to securely hold a new type of subsea umbilical that is compressible, very sensitive to the squeeze force applied and has a low friction outer sheath.

According to the developer, the solution is unusual in the industry – perhaps even the first - with its modular system of six elements, each of which houses a number of spring applied pads to ensure a consistent and reliable clamping force to the umbilical.

Even more impressive, Red Marine said, is the clamp's ability to securely hold the compressible umbilical with in excess of 20 tonne of back tension.