Exxon Leads Oil Majors in Aggressive Offshore Brazil Bids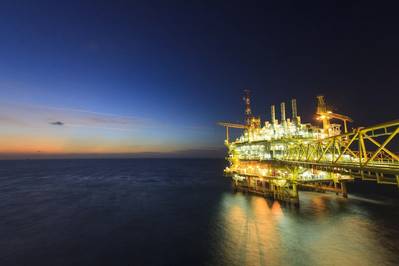 Exxon Mobil Corp roared into Brazil's prolific offshore oil fields again on Thursday, clinching eight blocks in partnership with other oil firms eager to lap up the country's choice reserves ahead of presidential elections later this year.
Exxon along with Petrobras and Qatar Petroleum Intl shelled out 2.8 billion reais ($844 million) for a block in Brazil's offshore Campos basin as the American oil major seeks to aggressively replace dwindling reserves.
Chevron Corp, Repsol SA,
Royal Dutch Shell Plc
(RYDAF)
,
BP Plc
and
Statoil ASA
(STOHF)
also spent top dollar to lock down stakes in Brazilian offshore blocks, some of which may be part of the coveted pre-salt play, where oil is trapped under layers of salt beneath the ocean floor.
"We are more confident in investment in Brazil, without a doubt," said Carla Lacerda, Exxon's top executive in Brazil, after the round. "We have lots of opportunities ahead. We are analyzing each round. We want a robust portfolio here."
Exxon, which also won a pre-salt block in October last year, will operate six of the eight blocks it won on Thursday.
Exxon took 10 blocks in a September round in Brazil last year. Before that, it was among the few oil majors without a presence in the exploration of the vast offshore fields discovered off the Brazilian coast over the past decade.
Higher oil prices and the need to replace shrinking reserves have boosted appetite among oil majors for costlier, higher-yield offshore ventures, though some projects are still seen as too pricey to be viable.
The offshore segment of the concession-style auction was a major success for Brazil's cash-strapped government, which raked in more than 8 billion reais by placing 22 blocks, compared with its forecast of 4.6 billion reais from both onshore and offshore rounds. Blocks in two onshore basins will be auctioned in the afternoon.
Results exceeded expectations despite an unexpected move by a Brazilian court on Wednesday to remove two of the most attractive blocks in the Santos basin from the round, based on the argument that they should be auctioned under a production-sharing regime to create more value for the government.
The government will seek to auction off those blocks as part of a pre-salt round in June.
The big bids underscore oil majors' urgency to lock in stakes in Brazil before a wide-open presidential election in October that could bring to power a government seeking to halt or slow private investment in Brazil's oil sector.
Still, there may be more opportunities than previously thought to take stakes in Brazil's pre-salt this year.
Officials told Reuters the June round could be followed by an auction of top geology pre-salt areas in the Santos basin in the second half of the year if the government and Petrobras can end a dispute over the area.


($1 = 3.32 reais)

(Reporting by Alexandra Alper, Marta Nogueira and Rodrigo Viga Gaier Editing by Grant McCool and Matthew Lewis)