Delfin Project Gains US Approval to Export LNG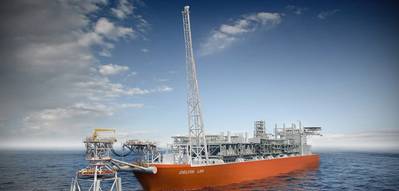 The U.S. Department of Energy (DOE) has approved a long-term application to export
liquefied natural gas
(LNGLF)
(LNG) from the first offshore project, Delfin LNG, LLC. Exports in the amount of 1.8 billion cubic feet per day (Bcf/d) of natural gas are approved from Delfin's proposed offshore
Louisiana floating
LNG terminal in the Gulf of Mexico.
Development of the Delfin project offshore of Cameron Parish, La. will include the construction of floating liquefaction and storage vessels. Due to its offshore location, the environmental review of Delfin was led by the Maritime Administration (MARAD) and the U.S. Coast Guard.
U.S. Secretary of Energy Rick Perry stated, "I am pleased that with this authorization the Administration can continue to strengthen the United States as a dominant energy force with further exports of our abundant amounts of natural gas. Investing in American natural gas not only helps our economy and our jobs, but also helps our allies maintain their energy security. This represents a true win-win for everyone involved."
With the rapid increase in domestic natural gas production, the U.S. is transitioning to become a net exporter of natural gas. The DOE has now authorized a total of 21 Bcf/d of natural gas exports to non-free trade agreement (non-FTA) countries from planned facilities in Texas, Louisiana, Florida, Georgia, Maryland and now, with Delfin, from the Gulf of Mexico. The Delfin project would further position the U.S. to become the predominant LNG supplier to the rest of the world.
The DOE said it is eager to bring this clean burning resource and its benefits to all of our international trading partners. Secretary Perry will take this message to Japan, and then to China for the Clean Energy and Mission Innovation ministerials, where he plans to strengthen the U.S.-China LNG export partnership and continue working together towards a clean and affordable energy future.
This increase in U.S. natural gas production is expected to continue, with the U.S. Energy Information Administration's (EIA) Short Term Energy Outlook projecting an average dry natural gas production rate of 74.1 Bcf/d in 2017, the second highest on record.
Federal law requires approval of natural gas exports to countries that have an FTA with the U.S. For countries that do not have an FTA with the U.S., the Natural Gas Act directs the DOE to grant export authorizations unless the Department finds that the proposed exports "will not be consistent with the public interest."
The DOE said it conducted an extensive review of the Delfin LNG, LLC application, considering, among other factors, the economic, energy security and environmental impacts, including macroeconomic studies that showed positive benefits to the U.S. economy in scenarios with LNG exports up to 28 Bcf/d. The DOE then determined that exports from the
Delfin LNG terminal
, jointly owned by the India and Singapore-based Fairwood Group and the U.S.-based Peninsula group, for a period of 20 years, was not inconsistent with the public interest.