DeepOcean to Provide MPV to Tullow Ghana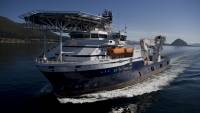 DeepOcean Ghana Limited, a Ghanaian company with 51% Ghanaian owned share structure, has been awarded a contract to provide the services of a multipurpose construction vessel (MPV) to Tullow Ghana Limited.
The scope of work for the contract is inspection, survey and subsea construction on the Tullow operated deepwater Jubilee and TEN Fields offshore Ghana. The contract includes subsea tree and jumper installations in approximately 1,100 - 2,000 m water depth.
Following the signing of the contract, DeepOcean Ghana Limited is currently mobilizing the Rem Forza, a subsea construction vessel for a six-month charter from March to August 2015, with the possibility of extension into 2016.
Mads Bårdsen, Executive Vice-President International of DeepOcean, commented, "Tullow Ghana Limited is a strategic client to us, and winning this contract is the first great achievement in the long term strategy for our company in West Africa and specifically Ghana. DeepOcean has for several years looked for a suitable contract to support the establishment of our installation and ROV
intervention services
in the
West African region
. With the current contract and associated scope of work we have the right foundation to develop a strong presence in the region building upon our current extensive track record from the
North Sea
." 
Bårdsen added, "DeepOcean Ghana is supporting the local content agenda of Ghana by accelerating participation of Ghanaians in the oil and gas industry and delivering in-country support activities. These include having Ghanaian crew onboard the vessel Rem Forza from the beginning of the contract, ensuring transfer of knowledge and building capacity for the future. DeepOcean Ghana has a strong ambition to develop further businesses in Ghana with Tullow and other clients."