Circulation Tool Helps Operators Cut Rig Time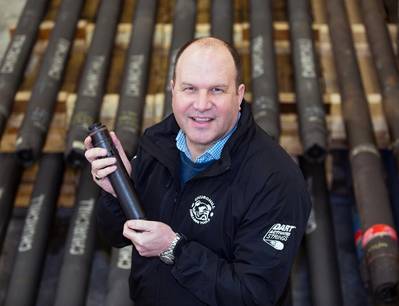 With more than 1600 runs and 730 activations, operators across the globe are cutting rig time by deploying the DAV MX CircSub, the flagship tool from specialist oilfield service company, Churchill Drilling Tools.
Run in hundreds of wells every year and recognized for its reliability, resilience and versatility, the dart activated DAV MX is the ultimate downhole circulation tool.
With demand continuing to grow for the award-winning tool, the company, ahead of exhibiting at ONS in Norway this month, has released details of one of 14 activations in the last year in the Norwegian Sea alone.
Demonstrating the DAV MX's resilience and versatility, a North Sea operator activated the tool on a specialist Well Bore Clean Up (WBCU) run on a recent exploration well. The tool was used for hole cleaning and BOP jetting, however, prior to its activation, the DAV MX had to be resilient enough to withstand 113 barrels of 1.6SG cement slurry so the operator could spot a temporary cement plug.
Once spotting was complete, using one of Churchill's specialist smart darts the DAV MX was activated allowing the operator to hole clean at 3,500lpm. The client then completed five jet passes of the BOP removing debris which could impact its performance.
The operator, said it was pleased with the DAV MX's performance having eliminated an extra trip in hole using a dedicated clean out assembly and quoted rig time savings of more than six hours. It had successfully used the DAV MX on previous campaigns, primarily on a contingency basis – that success provided the confidence to try the tool across other applications, including hole cleaning and BOP jetting.
Churchill's range of innovative downhole solutions, including the DAV MX CircSub and HyPR Holesaver, the quickest and safest low cost means of recovering from most stuck pipe senarios, will be on display at the ONS Conference in Stavanger, from 27-30 August. Members of Churchill's highly experienced team will discuss the simplicity of the company's tools and demonstrate why Churchill's technology has the widest operating envelope in class.