CGG Begins Seismic Survey off SE Australia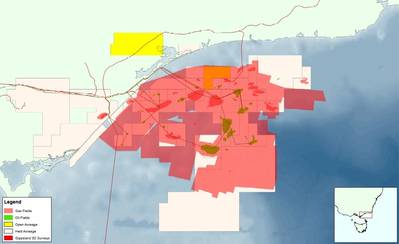 CGG said it has begun its Gippsland ReGeneration 3D reprocessing project in Australia's premier Gippsland Basin, in South-East Australia.
Historically, imaging the Gippsland Basin's shelf break and numerous submarine channels has proven extremely challenging, but with the application of
CGG
(CGG)
's latest high-end technology and workflows, including advanced de-multiple and high-frequency FWI, the Gippsland ReGeneration project will deliver
significant reservoir imaging improvements
, reveal new potential deep reservoir targets and extensively improve understanding of the basin, CGG said.
To date, the Gippsland Basin has produced more than 4 billion barrels of liquid hydrocarbons and 7 trillion cubic feet of gas, sourced from thick coal seams formed during the Paleocene to Eocene, and trapped in late Tertiary, inversion-formed, compressional structures. The first major offshore discovery was made over half a century ago and there is still tremendous opportunity for new discoveries and developments.
Mark Richards, Senior Vice President, Eastern Hemisphere, Multi-Client & New Ventures, CGG, said, "CGG sees the Gippsland Basin as an exciting opportunity to show how its leading-edge seismic imaging technologies can enable the industry to breathe new life into a mature basin. With its well established infrastructure and under-developed resources, we believe this high-end reprocessing project has the potential to regenerate the basin and offer a solution to the projected shortfall in Australia's East Coast gas supplies."