BSEE Inspects New Shell Appomattox Platform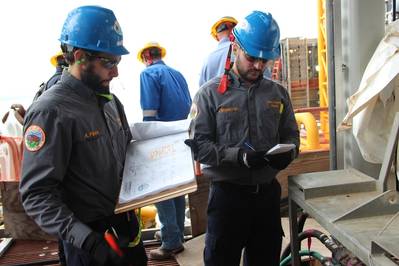 As Shell finishes construction on its Appomattox Semi-Submersible Platform hull, Bureau of Safety and Environmental Enforcement engineers and inspectors signed off on several topsides components during a pre-production inspection March 27, 2018.
Royal Dutch Shell plc
(RYDAF)
, 79 percent owner and its partner, Nexen Petroleum Offshore U.S. A. Inc., a wholly owned subsidiary of CNOOC ltd, will operate the platform about 80 miles off Louisiana's coast in the Mississippi Canyon.
"The Appomattox will be Shell's largest floating platform in the Gulf of Mexico," said Anthony Pizza, BSEE New Orleans District Production Operations Section Chief. "The purpose of our inspection is to ensure the topsides are constructed as planned, meet industry and BSEE standards and comply with federal regulations."
The bureau's physical inspection involved ten inspectors divided into two groups, each simultaneously inspecting different areas of the facility for three consecutive days. Each group concentrated on various processes, components and equipment and the inspectors spent an average of 10.5 hours each day inspecting the facility.
According to Shell, the platform is slated for first oil by the end of this decade and will add about 175,000 barrels of oil equivalent per day to the nation's supply.
"Our engineers and inspectors are working with Shell to ensure the Appomattox is prepared to operate in a safe and environmentally sustainable manner," said Pizza. "With an estimated 650 million barrels of recoverable oil equivalent in the field, the potential contribution to America's
energy needs
is great."
Before production can begin, BSEE engineers and inspectors will perform an additional inspection after the Appomattox is moved to its fixed location in about 7,400 ft of water.