Britain Produced Record Amount of Wind Power in 2022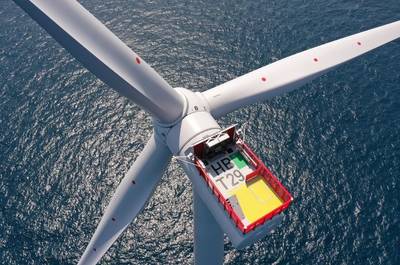 Britain's wind farms contributed a record 26.8% of the country's electricity in 2022 although gas-fired power plants remained the biggest source of power, National Grid data showed on Friday.
Britain has a target to reach net zero emissions by 2050 which will require a huge scale-up of renewable power generation such as wind and solar.
The share of wind power in Britain's electricity mix last year was up from 21.8% in 2021, the data showed, as more wind projects came online. The world's largest offshore wind farm, Hornsea 2 off the Yorkshire coast in the North Sea, became fully operational in August 2022.
The wind farm can generate enough electricity to power around 1.4 million homes.
Britain's gas-fired power plants produced 38.5% of the country's electricity last year, up from 37.8% in 2021, the data showed. The rise came as the country imported less electricity, with imports making up 5.5% of the total down from 10.3% in 2021.
Britain typically imports electricity from France but this year issues with France's nuclear fleet mean the European country which traditionally was a large exporter of power, turned a net importer in 2022.
(Reuters)