Brazil Offers Angola $2 Billion Credit for Energy, Construction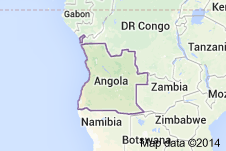 Brazil has offered Angola a new credit line worth $2 billion for use in the sub-Saharan African country's energy and construction sectors, Angolan Finance Minister Armando Manuel said on Monday.

Several Brazilian companies are involved in energy and construction in Angola, Africa's No. 2 oil producer, although China is the main foreign partner and buys nearly half of Angola's oil.

Angolan President Jose Eduardo dos Santos, on a state visit to Brazil, was due to meet Brazilian President Dilma Rousseff later on Monday to discuss moves to strengthen a strategic partnership between the two Portuguese-speaking countries that began in 2010.

Angola is spending billions to rebuild transport, energy and communication networks destroyed by a 27-year civil war that ended in 2002.

This would be the sixth credit line extended by Brazil.

"The new line raises the total to $7.83 billion, which makes it clear that there is a growing link between the two countries," Manuel said in comments broadcast by Angola state TV network TPA.

China has given an estimated $13.4 billion in so-called 'oil-for-infrastructure' loans to Angola. As a result, Chinese construction companies are heavily involved in the reconstruction projects.

Still, Brazil's Odebrecht, Latin America's biggest diversified construction conglomerate, which is engaged in the construction and agri-business sectors, is Angola's biggest private employer.

The United States also has a strategic partnership with Angola, which the two parties are trying to strengthen.

The U.S.-run Export-Import Bank this month financed a deal for Angola to buy $1 billion of railway and energy equipment from General Electric.
(Reporting by Shrikesh Laxmidas; Editing by Susan Fenton)