Boosted by Rising Oil Prices, Spain's Repsol Hits Accelerator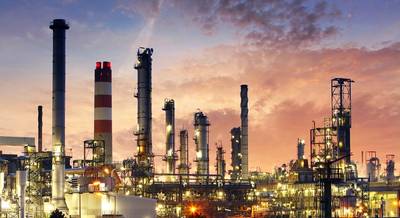 Spain's Repsol plans to increase investment and production and lift its dividend by 2020 after years of cost cuts, the oil and gas company said on Wednesday, as a rebound in global oil prices boosted its profits.

The refiner will spend 15 billion euros ($17.6 billion) across units including exploration, production, refining and commercial over the next two years, it said in its 2018-2020 strategy plan.

Repsol had focused on cost and debt reduction since paying a hefty premium to buy Canadian producer Talisman for $8.3 billion in 2015, just as a plummeting oil price forced companies across the sector to tighten their belts.

It now forecasts production will rise to 750,000 barrels per day in 2020, from 727,000 a day in the first quarter of this year.

The targets are based on an oil price of $50 a barrel, "the harshest scenario", Chief Executive Josu Jon Imaz said during a presentation of the plan.

Brent crude is currently trading at around $76 a barrel.

"Taking into account the cost of replacing reserves, $50 or $60 could be a floor for the price of crude in the next few years," Imaz said.

If the price of a barrel stays above $50, Repsol plans to speed up existing projects and buy back additional shares.

Shareholders can expect to receive a dividend of 1 euro per share in 2020, up from 0.90 euros in 2018.

The increased payout and investments will be partially funded by Repsol's sale of a 20 percent stake in utility Gas Natural (EGAS) to CVC Capital Partners for 3.8 billion euros earlier this year.

Shares jumped 3 percent to almost 17 euros on Wednesday, leading gainers on Spain's blue-chip Ibex index.

Repsol is also looking to diversify towards renewable energy and gas in response to pressure faced by refiners to move to low-carbon sources.

Imaz expressed support for the 2015 Paris agreement on climate change, adding, "We want to be part of the solution."

Under the new plan, Repsol will pour 2.5 billion euros into low-emissions businesses, as well as a further 1.5 billion euros into growing its downstream refining business.

Net debt, for a long time one of the company's biggest headaches, is projected to stand at 0.7 times core earnings in 2020, from a ratio of 0.9 in 2017.
Reporting by Isla Binnie and Jose Elias Rodriguez