Arctic Drilling Protest: Russian Coast Guards Hold Crew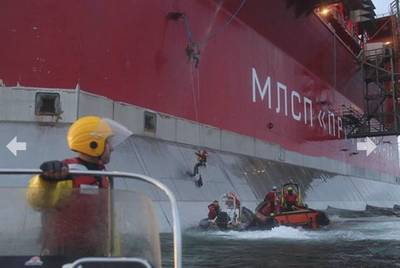 Greenpeace in a 'Tweet' report their ship, 'Arctic Sunrise', boarded in the Pechora Sea by the Russian Coast Guard, and the 25 crew arrested and locked in a room, following a protest against Gazprom's Arctic drilling operations.
The Greenpeace website carried information that by means of a helicopter and ropes, armed Coast Guard officials boarded the vessel and started rounding up the activists, assembling them on the helideck. Greenpeace International activists locked inside the radio room said they saw other activists detained on their knees with guns pointed at them.

The Coast Guard had earlier arrested and held without charge two Greenpeace International activists, Sini and Marco, who had scaled Gazprom's drill platform on Wednesday in a peaceful protest.

Gazprom is due to start production from the Prirazlomnaya platform in 2014.