Alaska's Petroleum Reserve at 9 bln bbl - USGS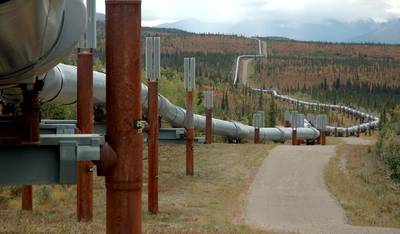 Alaska's National Petroleum Reserve and adjacent lands have an estimated 8.7 billion barrels of recoverable oil, the U.S. Geological Survey said on Friday, up from an estimate of about 1.5 million barrels made in 2010.
The newest estimate shows an estimated 25 trillion cubic feet of natural gas in the NPR-A, located on
Alaska
's North Slope, on the western half of the northern coastline.
Overall, the USGS estimated that there is about 17.6 billion barrels of oil in both the NPR-A, the nearby Western Beaufort Sea and other adjacent lands, though the estimates for areas other than NPR-A were not substantially altered. Overall undiscovered, recoverable
natural gas comes
to more than 50 trillion cubic feet.
The assessment did not include the Arctic National Wildlife Refuge, on the eastern side of the North Slope. The recently passed tax reform bill includes a provision to allow for drilling in ANWR, but it will be years before oil is potentially extracted from that location.
Reporting By David Gaffen