H-100 Gas Turbine Completes Low NOx Testing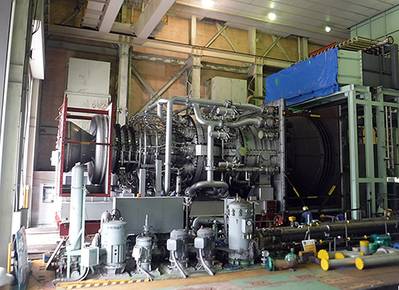 Mitsubishi Heavy Industries, Ltd. (MHI), Mitsubishi Hitachi Power Systems, Ltd. (MHPS) and Mitsubishi Heavy Industries Compressor Corporation (MCO) have completed testing of MHPS's 2-shaft 120MW H-100 Gas Turbine. The H-100 utilizes the latest combustor technology and is the industry leader in terms of low NOx (single digit ppm) for full-load operations for thermal power plants as well as mechanical drive liquefied natural gas (LNG) applications, utilizing high-efficiency compressors manufactured by MCO.
Following completion of testing, MHI President & CEO, Shunichi Miyanaga, commented, "We are confident this can be a game-changer for the LNG industry, as well as thermal power plants, in terms of lower production costs. We can now deliver increased productivity, reduced complexity and lower lifecycle costs, while significantly reducing plant emissions."
According to the manufacturer, the H-100 Gas Turbine offers high-efficiency, heavy-duty, high-reliability, and low-maintenance. Benefits of the two-
shaft gas turbines
for LNG mechanical drive application include reduced footprint, broad variable-speed operation, shortened start-up time and space savings.